2012.06.09 Basic - DAVE CLARKE (White Noise) @ (le) Poisson Rouge
Saturday June 9th – Basic presents...
DAVE CLARKE @ (le) Poisson Rouge
The techno legend returns to New York

It's been years and years in the making but it's finally happening - NYC get ready for the long-awaited and much-overdue return of DAVE CLARKE! The "baron of techno", the "White Noise" host, and the producer of the legendary RED series, Dave is easily one of the world's most celebrated DJs and we're honored to welcome him to (le) Poisson Rouge. This is techno served up hard, uncompromising, and strictly underground - do not miss this night.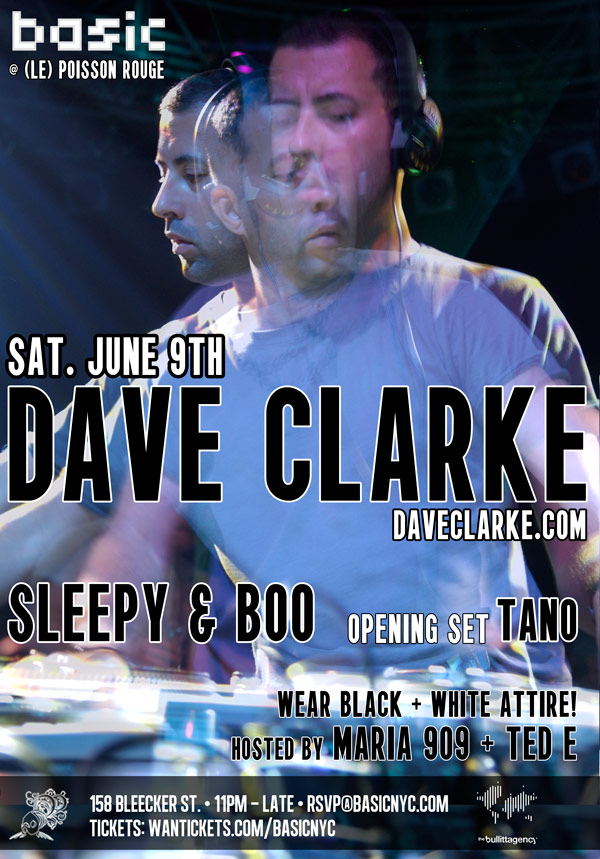 Featuring:
DAVE CLARKE
White Noise | daveclarke.com

Along with:
SLEEPY & BOO
Basic | basicnyc.com

opening set by TANO

hosted by MARIA 909 + TED E

This is a BLACK AND WHITE party - so make sure to wear black and white attire!

For guest list + limited table reservations - email rsvp@basicnyc.com[/email]

Presale tickets highly recommend:
Wantickets: http://www.wantickets.com/events/Sh...?eventId=106378
or Resident Advisor: http://www.residentadvisor.net/event.aspx?361076

Where: (le) Poisson Rouge (158 Bleecker Street)
When: Saturday June 9th - 11pm – late
Price: Email [email]rsvp@basicnyc.com for our guest list

http://www.basicnyc.com/
http://www.daveclarke.com/
http://www.lepoissonrouge.com/
http://www.thebullittagency.com/
http://www.twitter.com/djdaveclarke

___________________
Sleepy & Boo
http://www.basicnyc.com
Last edited by sleepy&boo on May-11-2012 at 00:02