tranceaddict Forums (www.tranceaddict.com/forums)
- Canada - Toronto & Southern Ont.
-- TOTA DJ MIX - MASTERLIST
Pages (59): « 1 2 3 4 5 6 7 8 9 10 11 12 13 14 15 16 17 18 19 20 21 22 23 24 25 26 27 28 29 30 31 32 33 34 35 36 37 38 39 40 41 42 43 44 45 46 47 48 49 50 51 52 53 [54] 55 56 57 58 59 »
---
Posted by WithoutAngles on Apr-05-2012 06:03:



DL Link:
http://uploading.com/files/5939m5fd...ng%2BFling.mp3/

Francis Harris - Living Lips (Kate Simko Remix)
Tom Ellis - Thing One (Original Mix)
Will Crawshaw - So Mesmerized (Original Mix)
jozif - Lady B's Lullaby (Original Mix)
Jacsun - Free Love (Original Mix)
Mario Basanov - We Are Child of Love (The Mekanism Remix)
Cocolores - Vox (Original Mix)
Phonic Funk - One (Shur-I-Kan Remix)
Anton Lanski - My Tribe (Original Mix)
The White Lamp - It's You (Ron Basejam Remix)
---
Posted by Juan Paulino on Apr-05-2012 09:43: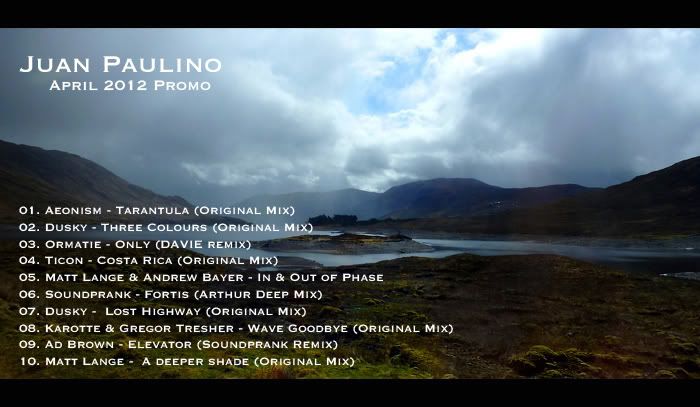 Length 58:42
Size 80.70 MB
Bit Rate 192 Kbps
Sample Rate 44.100 kHz

01. Aeonism - Tarantula (Original Mix)
02. Dusky - Three Colours (Original Mix)
03. Ormatie - Only (DAVIE remix)
04. Ticon - Costa Rica (Original Mix)
05. Matt Lange & Andrew Bayer - In & Out of Phase
06. Soundprank - Fortis (Arthur Deep Mix)
07. Dusky - Lost Highway (Original Mix)
08. Karotte & Gregor Tresher - Wave Goodbye (Original Mix)
09. Ad Brown - Elevator (Soundprank Remix)
10. Matt Lange - A deeper shade (Original Mix)

Right Click Save As

Any feedback is appreciated.


---
Posted by jon jon on Apr-06-2012 19:25:



tech/house bombz recorded live from the Comfort Zone...

I even added a secret track to the recording lol (basically because I love the record so much)

enjoy x

upcoming dates...
April 8th - Comfort Zone
April 13th - Footwork

facebook: http://www.facebook.com/dj.jonathan.rosa
---
Posted by zyklon-jay on Apr-07-2012 20:36:
old stuff.



https://dl-web.dropbox.com/get/Frea....mp3?w=0d0d982c
---
Posted by jchung52 on Apr-08-2012 01:55:
Tommy D (london_ta) and my set from Lily. 4 hrs of Traktor vs cdjs


---
Posted by zyklon-jay on Apr-08-2012 23:49:
https://www.facebook.com/lefrealebeat
---
Posted by NuERA on Apr-10-2012 17:45:
My latest mix



http://www.facebook.com/AndrewMcDonnellOfficial
http://twitter.com/am_dj
http://soundcloud.com/AndrewMcDonnell
http://www.beatport.com/#artist/andrew-mcdonnell/105702
http://www.youtube.com/DJAndrewMcDonnel
---
Posted by DigDeep on Apr-13-2012 22:53:
---
Posted by samhouse on Apr-14-2012 21:32:
Samhouse - April 2012
---
Posted by gl.tch on Apr-15-2012 20:10:
Apr.4, 2012


Mike Conradi is a legend-in-the-making in Toronto's electronic music scene. The experienced DJ has been moving crowds for over a decade and has recently been bitten by the "production" bug. If you've been clubbing in Southern Ontario during the past few years you've no doubt danced to the rhythms of Mike Conradi at places like Nocturne, 24 Lounge, After 8 Lounge, Festivals like WEMF, or the old mainstays like Circa, The Docks and System Soundbar just to name a few....

Citing Deko-ze as an inspirational force, "from his mixing to his track selection & programming [Deko-ze] is in a league of his own," Conradi's no slouch behind the decks either.

Using 3 CDJs, Mike's signature sound is best summed up as a Techno-driven hybrid of Electro, House, and Funk overlaid with samples and effects. More to the point, the man has the skills to pay the bills.

As a producer, Mike has a number of remixes already under his belt and has releases forthcoming on labels such as Champion Beats, Fine Grind Audio, Don't Look Productions among others. You may also have caught Mike performing as one half of the DJ/Production duo known as Rex Manning with Christian Poulsen of HUGSNOTDRUGS.

I was fortunate to have Toronto area DJ/Producer Mike Conradi agree to submit an exclusive mix for In My Room last week. Quite frankly, the mix couldn't have come at a better time as I was hit with a nasty cold-flu thing and could barely even get my ass to the studio to load it up and press play.

If you like what you hear below, you can catch the man live here:

Friday April 13th at Nocturne in Toronto

N.B. The tracklist is incomplete at the moment but we're working on it


Mike Conradi-InMyRoom-Apr.4,2012

Tracklist

Loco Dice - Definition (Nic Fanciulli RMX)
Hermanez - Stomp
?
?
?
Zoo Brazil - Slob (Nick Curly RMX)
Nicole Moudaber - Watcha Playin
?
?
?
Jay Lumen - The Drummer
Radioslave - Grindhouse (Nic Fanciulli RMX)
123XYZ - 2Gether
Juan Kidd, Prok & Fitch - Placebo
D. Ramirez - Lump & Pop
DJ Dan - Stereo Damage
Fatboy Slim - Star 69 (X-Press 2RMX)
Phunk Investigation - 1,2,3,4
Christian Cambas & Spektre - Rebel Without A Cause (Uto Karem RMX)
Trisco - Muzak (Eddie Halliwell RMX)
TJR - Funky Vodka
Crazibiza - Hard
Rene Amesz & Ruell - Hope
MYNC & Wally Lopez - No Pare La Musica
Mr Bizz - Bamboo
Lutzenkirchen - Monday Trolling
Steve Mulder & Roel Salemink - Roest
Steve Mulder & Roel Salemink - ?????
John Dahlback - Feel It
Nicky Romero - Generation 303
Sydney Blu - X Factor (Funkefeller RMX)
Zedd - Stars Come Out (Lazy Rich RMX)
Chemical Brothers, Miles Dyson & Elite Force - Swoon Anthem
Reset! & Elite Force - Calypsoul
The Crystal Method - Not Leaving (Moguai RMX)

-------

In My Room airs live, weekly, every Wednesday night from 10pm-12am EST on Radio Regent!

Hot Jambalaya!
---
Posted by Mortyman on Apr-21-2012 22:02:
Human Being in a Box
My first "official" Techno mix. An 80 minute mix full of deep, funky, groovy & banging techno beats. Now I'm no Carl Cox or anything, but I hope I've done the Techno guru's proud. After several attempts to get this mix on par with my own standards, I hope you guys enjoy, and I have plenty more where this came from.
---
Posted by feelgood on May-02-2012 15:07:
Some Feelgood techno/techhouse grooves here.
Im pretty happy with this one! I whipped it up spontaneously last night.



TL
Oliver Huntemann - Dark Passenger
Rationalizer - Misery
Danic- Reality
O_B - Morni
Treavor Moontribe - Return of Sunshine (Luke Mandala Remix)
Ramon Zenker, Harada -Xylopia (johnston, Mastratonio Acid Remix)
Rationalizer - Freaky
Umek - Ricochet Effect
Pavel Petrov - Koral (hristov remix)
Tomy DeClerque -Tanjowje
MArtin Eyerer, Florian Meindl - The Rush
Alonzo- Make me Wonder (Dani HR rmx)
Damon Jee - Nova
---
Posted by loopdokter on May-02-2012 19:25:
Jay Kaufman presents Boxed In - March 2012 techno/melodic tech


Limited to 100 downloads.

ARTIST - TRACK TITLE - LABEL

1. Andrew Mcdonnell - List of the Cities - Like E.P. - Bellarine Recordings 202
2. British Lizard and Tavin Reiter - Ketamine (Giuseppe Rizzuto's Pump Up remix) - Sounds of Juan 048
3. Umek - Profile Lost (Djuma Soundsystem remix) - Soundz 051
4. Oliver Schories - Coffee Break - Herzensangelegenheit - Parquet Recordings CD007
5. Guy J - Nightstalker - Underground Sound of Miami - Bedrock Records
6. Sunshine Jones - I Got Your Back (Kruse And Nuernberg Atmospheric Mix) - Nite Grooves
7. Peet - Movement Thru Coloured Glass - Movement Thru Coloured Glass E.P. - Progrez
8. No More Navigators - Home (Sasha Le Monnier remix) - Tactal Hots Music Enviroment
9. David Divine - Love Story - Love Story E.P. - Pravda Music Tech
10. Mao - Harken - Harken E.P. - Bad Life
11. Danny Daze feat. Louisahhh!!! - Your Everything (Original Mix) - Hot Creations 010
12. Mojo Filter featuring Nina Simone - Funkier Than A Mosquito's Tweeter (LoOse CaNnonS Re-Tweet) - unsigned
13. Laurent Garnier - Flashback (Christian Smith and Wehbba remake) - Tronic 063
---
Posted by kotsy on May-03-2012 05:10:


MP3

Cue Sheet

1. Stefan Lazarevic - Jungle Tribe
2. Marcos Silvestre - The One [Kotsy Dub]
3. Raul Fernandez, Pinche Rodgall - La Solana
4. Febrij - Smooky Party [David Devilla And Daniman Remix]
5. Oliver $ - Doin' Ya Thang [Kotsy Bongo Edit]
6. DJ Gaga - Jaipong Indonesian Ethnic.mp3
7. Luis Caballero - Tanto Trabaja [Albert Aponte Remix]
8. Boris - Tribal Fusion [Chus & Ceballos Iberican Remix]
9. J Kony aka Igino Coni - Plastik
10. Adam Freemer - U-Baby! [Carlos Manasa Magna Mix]
11. Funky Destination - Floorbreaker
12. DJ Chus, Supernova - Italoberican Grooves
13. Rene Amesz, Ruell - Hope
14. Wiwek - Ambushed
15. Homma Honganji - Austerlitz
---
Posted by kotsy on May-07-2012 17:21:
Kotsy - Maximum Drums 011 (May 2012)

Site Link

1. Brandon Decarlo - Brass Tacks
2. Mentor - Inconscious
3. Dynamik Dave, Michael Gin - Phunk
4. Angel Pina, Juanfra Munoz - Sambodromo
5. Phil Arned, Inigo Antralina - La Palapa
6. Tom Sawyer - Iguana Monkey Man [Charlie Hawk Caribbean Mix]
7. DJ Alex F - Fucking Revolution [Main Room Mix]
8. Pete Doyle, Futuristic Polar Bears - Move That Body [Lissat & Voltaxx Remix]
9. Steel Grooves - Strike
10. Vitaly Mclay, DJ Schiffer - Dis-Go! [Robben Hill Remix]
11. Proteck - Welcome [Toni Alvarez Remix]
12. Homma Honganji - Namahage
---
Posted by WithoutAngles on May-08-2012 21:34:



T-Polar - Crossroads (Original Mix)
Kolombo, Djuma Soundsystem - Cherimoya (Original Mix)
Robert Owens - I'll Be Your Friend (Paul Loraine Dub)
Alessio Mereu - Hypochondriac (Adultnapper & Jordan Lieb Remix)
Youandewan - Alone In Berlin (Original Mix)
Daniel Bortz - Other Guys (Original Mix)
Oxia - Sway (Original Mix)
T-Polar - That Was Annie (Original Mix)
Martin Dawson - Is This Goodbye (Original Mix)
Edit Murphy - Need You (Original Mix)
James Welsh - Air Valley (Original Mix)
Nicolas Jaar - Time For Us (Original Mix)
---
Posted by jchung52 on May-09-2012 23:05:
---
Posted by feelgood on May-10-2012 15:39:
My set LRCN's 'The Bidness' 7th Anniversary on DI.fm



Tracklist:
Nadja Lind, Paul Loraine - Making a Difference (Helmut Ebrisch Remix)
Paul Loraine - Move Closer (Klartraum Remix)
Meyens, Cheise- Feel the Pleasure
Makossa and Megablast - Soy Como Soy (D-Nox and Beckers Remix)
Hearttrob & Troy Pierce - Island Rumours
Kino Oko - Lovely Serenade (Kino Oko Paysonated Remix)
Jenny Bae - Koncerto (Dino Lenny and Taz Remix)
Marc Poppcke - Cosmopolitan (Cattaneo and Soundexile Remix)
Philogresz -Thick Dean (Klartraum Remix)
Lank - Opla
Sasha and Krister Linder - Cut Me Down (Kastis Torrau Donatello Feat Arnas D. Remix)
---
Posted by Nicolas Oliver on May-13-2012 19:10:




Download enabled.

Tracklisting:
1.Plastikman - Ask Yourself (Lucien Reden Bootleg)
2.Joe Kendut - Magma (Hassan Abou Alam Remix)
3.Maksim Dark - Volume 101 (Original Mix)
4.Lorenzo D'amario - The Boat (Original Mix)
5.Matador (IE) - Mambo (Original Mix)
6.Doublewave - Agora (NHB Fabrizio Pettorelli Remix)
7.Hertz - Bipolar (Original Mix)
8.Mr. Bizz - Exit (Original Mix)
9.Paul Begge - Vanilla Vaginas Attack (Original Mix)
10.Beltek - Party Voice (Nicolas Oliver Bootleg)
11.Sasha Carassi - Moka Xpress (Rino Cerrone remix)
---
Posted by PivotTechno on May-18-2012 18:06:
Been a while since I've put up anything - last mix was a fun set, recorded at one of our Basement Therapy sessions, that also suffered from poor recording quality. After my mate POA pointed out that it sounded like a Real Audio broadcast from the 90s, I un-lazied myself, ran everything through my handy little Presonus Firebox, and tore through a half-crate's worth of wax in just over an hour.

As I've mentioned in the past, I always endeavour to record my studio sets as if I'm playing in front of a 4 a.m. crowd in a big, dark room - if you're looking for headphone music, this ain't it. If, by chance, you have a hankering for raw and dirty, three-turntable shenanigans with which you can do some serious chair dancing, then please, have a listen. Super-fun time tracklist below.

Comments, feedback and YEEEE-HAWs!! always welcome.


So...we've been given a night.

A monthly, to be exact. Even more precisely, the 3rd Saturday of every month, in a brand new, 4,000 square foot, 210-capacity, mixed-use concert venue in Toronto's Junction neighbourhood, just outside the downtown proper. Interesting fact - this neck of the woods was bone dry (bereft of alcohol) until 2000. It's been slow to catch up with its nightlife, but 3030 (www.3030dundaswest.com) looks to be a gamechanger, and we're more than a little chuffed to be on board.

Our little band of musical miscreants also hope to be gamechangers in a city where Techno and House have become largely homegenised, overly-stylised and considerably less fun than when we had a real warehouse scene to support big-room music. Not saying that there's anything wrong with bowing at the altar of Berlin, but when you're only bowing to one specific sound, coming out of a ridiculously diverse artistic metropolis, a lot of people end up not knowing what they're missing.

But enough about Germany - we're world citizens, and as such, garner our influence from every corner that produces funky, soulful, jacking, headspinning, bass-heavy tunes. Our core consists of one e.k.g. (http://ekg.podomatic.com), a.k.a. Giordan Battaglin, our sole controllerist and a stellar photographer to boot, bringing the smooth, melodic Tech...one Trevor "Isporax" Wilkes (http://www.fun-in-the-murky.com/wp), who boasts a 6,000+ vinyl collection that includes most of the Dance Mania back catalogue and a whole lotta wonky Techno that will test even the most timid wallflower...and yours truly, falling somewhere in between and not caring whether it came out last week, or 30 years ago.

As may be noted by the tracklist, this offering is straight-up Techno. As our night's name - Mr. & Mrs. Anything - denotes, you might hear something like this, but then again, you might not. I might drop a set of deep and classic House, to complement a guest DJ, or perhaps something more Electro-tinged, for no better reason than just because. To one degree or another, all the DJs and live PAs we'll be booking in the upcoming months have this capability, and our goal is to draw in all the dancers and music lovers who feel the same way about musical diversity. Here's hoping you're one of them.

To join our Facebook page:

http://www.facebook.com/pages/Mr-Mr...133069003484132

70 mins, 320kbps mp3, all-vinyl, improv'd from start to end on 3 x Technics 1200

Tracklist:

1. DJ Shufflemaster - Hermes Discord Soul - Theory Recordings
2. Chance McDermott - Hot As.... - Black Nation
3. Marco Bailey - Barajas - Reel Musiq
4. Rob Stow – I'm Going To Kill Her - Don't
5. David Roiseux - Untitled - Arrival Works
6. James Ruskin - System - Blueprint
7. Soul Mate - Remote Control - Phont Music
8. Surgeon - Untitled - Counterbalance
9. Robert Hood - Untitled - M-Plant
10. DJ Hyperactive - Reptilian Tank - Contact
11. Japanese Telecom - Rising Sun / Game Player (John Selway Remix) - Intuit-Solar
12. Craig Walsh - Fingers - Dark House Music
13. Y2K – The Wired World - Premier Records
14. DJ ESP - Slow-Mo - Definitive Recordings
15. 1016 - Do That - Bush
16. Stephen Brown - Music Is - Subject Detroit
17. Frank Ingram Featuring G-Man - Are U Receiving - Fieber Records
18. DJ Shufflemaster - Hermes Discord Soul (Reprise) - Theory Recordings
19. Fumiya Tanaka - Go Up - Torema
20. Abstract Soul - Your Way - Hybrid - Hybrid Sound Architectures
21. Traktor - Various Traktor - DIN
22. Rob Alcock & Tommy Gillard - Nature (Meta-Mix) - Continual
23. Grain - Untitled - Fat Cat Records
24. Oliver Ho - Midnight - Blueprint
25. Jerome Hill - Rel Und Pol - Don't
26. Cari Lekebusch - De Sju Skenande Kompressorerna - H. Productions
27. Convextion - Untitled - Matrix Records
28. Pole - Raum 3 - ~scape
---
Posted by hardcore trancer on May-25-2012 05:07:
Mystic Mind - The Journey [Progressive/Techno]
Here is my recent mix. Cheers.




Tracklist:

1) Paul Hazendonk - Nijna Summer (Brendon Collins remix) --GROOVECOLLECTION RECORDS
2) Dibby Dougherty & David Young - Tiger Forest (Ryan Davis Rework) --Bedrock Records
3) Diego Poblets - Southern Cross (Dark Soul Project & Santiago Garcia Remix)--Baires Records
4) Stefan DJordjevic - Heartache (Original Mix)--Mistiquemusic
5) Guy J & Henry Saiz - Meridian (Pryda Remix)--Bedrock Records
6) Hypnotic Duo – All Over Again (Dark Soul Project Remix)--Per-vurt Records
7) Marc Marzenit - Neo Galaxy--Bedrock Records
8- GMJ - Contrivation (Dousk Rmx)--Vapour Recordings
9) Erphun - Katana (Fady Ferraye Remix)--AlterImage Recordings
10) Relaunch - Suspense (Original Mix)--Mistiquemusic
11) psycatron and sian - vertigo of the modern (psycatron remix)--Bedrock Records
12) Aya Mavra - Calakmul--MISTIQUE DIGITAL
13) Antix - Red Robin (Kasey Taylor Remix)--Iboga Records
14) Eitan Carmi - Blazed --Iboga Records
15) Etnia - asian moon (original mix)--Mistiquemusic
---
Posted by kotsy on Jun-02-2012 01:57:
Some of the hardest/fastest tech-tribal tracks to date on my podcast!

Kotsy - Maximum Drums 012 (June 2012)

Download Site

1. Fabrizio Delgarco, Alex Percussion - Drums On The Beach [Splashfunk Remix]
2. DJ Mitsugu a.k.a Mick - Hamba Hamba
3. Level Groove - Mexico DF
4. Rene Amesz, Ruell - Work This
5. Enzo Tucci, Richard Cleber - Construction [Gerald Henderson & DJ Haro Remix]
6. Djose Elenko & Javi Blama - Flipside Drums
7. DJ Danila - Let It Take [Albert Aponte Remix]
8. Jmix - Shake Your Body
9. Almir Ljusa - Reason
10. Wyrus - Bastardo [Mario Montero Remix]
11. Christian Peak - Maxixe
12. Wyrus - Me Vuelves Loco
---
Posted by darouge11 on Jun-04-2012 09:50:


Tracklist:

Massimo Cassini - Travian
Pirupa, Hollen - Black Fusion
Marc Faenger - Lotus Eaters
Leon - Im So Guilty
Jose M & TacoMan - Groove Theory
Franco Strato - By The Way
Fosky - Shiva (Martinez Brothers Remix)
Nino Santos & Lightem - Fairytale
Philip Bader, Nicone, Sascha Braemer - Dantze Boy
Bimas - Never Say Goodbye
Leon - Its Time To Load
Bimas - Post The Music
Nikola Gala - Only (Ryan Elliot Remix)
Clio - Your Eyes (Leon Remix)
Turmspringer - What Im Talkin About (Sacha Robotti Dusty Remix)
Groundbreaking - Salt Shaker
Adapter - Coincidence
Rampa - So Many
Shlomi Aber - In Dancetrippin
Loco Dice - Dont Make Signal
Glitter - Nacho
Bimas - Pain Of Our Life
Hitchcock - Syzygy (Forexample Remix)
Rober Gaez & Jorge Monita - You Know Why (David Herrero Remix)
Aga - Divine
Darlyn Vlys - Be My Friend (M.in Remix)
Andre Crom & Luca Doobie - Ebony (Ray Okpara Remix)
Sidney Charles - Big Bada Boom (Sante Remix)
ID - ID
Patrick Lindsey - Get Up and Bounce
La Pena - Just
Andrey Djackonda - Pegan Tribus
Daniel Mehlhart - Nobody Ever Loved Ya
---
Posted by loopdokter on Jun-14-2012 19:08:
Jay Kaufman presents Bits 'N Pieces - June 4th, 2012

http://soundcloud.com/jaykaufman/ja...presents-bits-n




ARTIST - TITLE/REMIX - LABEL

1. Lianne La Havas - Lost and Found (Maya Jane Coles Remix) - Labour of Love
2. Marc O' Tool - I Know - Serious - Circle Music 124
3. SCSI-9 - I'm Lost - Metamorphosis - Klick Greece 049
4. Adana Twins - Strange - Everyday - Exploited
5. Maya Jane Coles - The High Life - Focus Now E.P. - 2020 Vision Recordings
6. Maya Jane Coles - Little One - Focus Now E.P. - 2020 Vision Recordings
7. Evren Furtuna - With You - My Miracle Baby E.P. - Plastic City Records 228
8. Maceo Plex - Frisky - Frisky E.P. - Crosstown Rebels 093
9. Marc Romboy & Rodriguez Jr. - Lac De Nivelles - My Love Is Systematic Volume 4 - Systematic Recordings
10. Sailor & I - Tough Love (Aril Brikha Remix) - Art Of Vengence 005
11. Hot Since 82 - Sundown (Original Mix) - Hurt You E.P. - Moda Black 001
12. Pan-Pot featuring Cari Golden - No One Knows - Gravity E.P. - Mobilee Records 091
13. Andrea Casula and Tony Anatone - Nature's Chant - Nature E.P. - Unseen Records Colombia 081
14. Dosem - How Do You Do It - Underground Sound of Miami - Bedrock Records
15. Marco Bailey & Tom Hades - Stars and Shines - Stars And Shines E.P. - Bedrock Records
16. Oliver Koletzki & Fran - Arrow And Bow (Marek Hemmann Remix) - Noze Presents Body Language Volume 11 - Get Physical Music 169
---
Posted by WithoutAngles on Jun-17-2012 03:54:

Download link:

http://uploading.com/files/c7m1e7d8...pointments.mp3/

Stream:




Tracklist:

Sebo & Madmotormiquel - Boys Boys (Original Mix)
Milscot - All Alone (Domyan Just Slow Remix)
Bo Saris - She's On Fire (Maya Jane Coles Remix)
Audiofly, Big Bully - I'll Tell Ya (Original Mix)
Blond:ish - Lonely Days (Original Mix)
Fur Coat - You And I (Original Mix)
M A N I K - I Got Us (Original Mix)
Miguel Migs - Tonight (Crazy P Remix)
The Saint Petersburg Disco Spin Club - Divine Feat. Eleonora (Vincenzo Remix)
Kasper Bjorke - Heaven (Nicolas Jaar Remix)

And.. here's another. Was in a mixing mood.

Download:

http://uploading.com/files/c83f911b...plications.mp3/

Stream:



Tracklist:

Tom Ellis - Part 2 (Original Mix)
Bocca Grande - Even If (Morning Factory Remix)
Nufrequency, Maggie Reilly - My Angel (Wolf + Lamb Dub)
Jamie Jones, Luca C - Tonight In Tokyo (Original Mix)
Affkt - You & We (Javier Logares Remix)
Lovebirds, Novika, Sebastian Doring - This Time (Gorge Remix)
Saschienne - Unknown (Dixon Remix)
Guy Gerber - One Day In May (Original Mix)
Matthew Dekay, Lee Burridge - Lost In A Moment (Dixon Rework)
Timo Garcia, Manu Delago - The Hang Track Pt. II (Original Mix)

Pages (59): « 1 2 3 4 5 6 7 8 9 10 11 12 13 14 15 16 17 18 19 20 21 22 23 24 25 26 27 28 29 30 31 32 33 34 35 36 37 38 39 40 41 42 43 44 45 46 47 48 49 50 51 52 53 [54] 55 56 57 58 59 »
---
Powered by: vBulletin
Copyright © 2000-2012, Jelsoft Enterprises Ltd.