Upcoming URTrancezone Webcast - Friday, May 16 W/ Suzy Solar and Daniel Kandi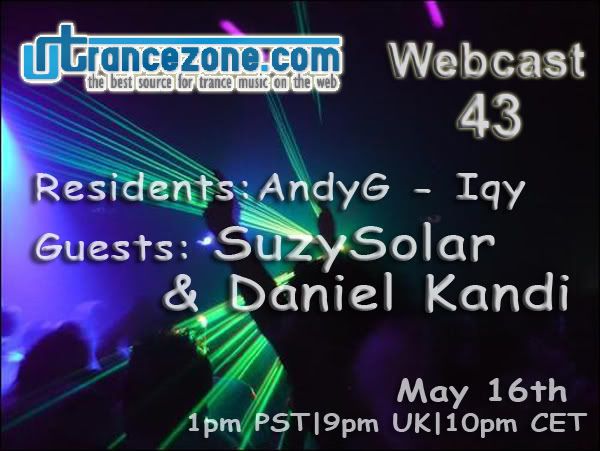 Next webcast will be May 16th 1pm PST - 9pm UK - 10pm CET

On this broadcast we have residents AndyG & Iqy with guests: Suzy Solar and Daniel Kandi

Suzy Solar



Suzy Solar (Florida, USA) shines as an internationally acclaimed female DJ/producer/vocalist/writer with hit records under her belt. Suzy's track "Ocean Of Love" was released in 2007 with a music video, a ring tone supported by P-Diddy, and is featured on the Grammy nominated Paul Oakenfold "Creamfields" album. Her premier single, Arizona Vs Suzy Solar "Samurai," has graced dance charts worldwide and is co-produced with Thomas Bronzwaer. "Samurai" is supported by the top international DJs, including Armin Van Buuren and Ferry Corsten. Suzy's mix albums, "The Perfect Trance" and "The Perfect Trance 2.0," on Neurodisc/Capitol Records topped Billboard's U.S. Electronica charts and have made noise globally. Currently in 2007/2008, Suzy is producing her artist album of all new tracks that will feature her vocals.

Music fans are drawn to Suzy's magnetic stage presence and versatility to rock dance floors all around the world with her eclectic fusion of pumping melodic trance, progressive, and tech-trance. Suzy is well known for her energy, passion, harmonic mixing skills, and unique feel for taking her listeners on a musical journey. Besides her technical and creative flair, Suzy loves to add a visual presentation with her fluid movements and uplifting vibes. She was voted at #48 in the Top 100 Female DJs worldwide poll.

Suzy's multi-faceted resume includes television appearances on The Playboy Channel's "Sorority Girls" 1997 (played a campus DJ), "DJ Throwdown" 1999 (co-hosted with Vanilla Ice), and "The Morbid Underground" 1991-93, a Tampa based music video television show she produced, edited, and hosted. On "The Morbid Underground," Suzy interviewed top metal acts which included Marilyn Manson, Pantera, and White Zombie, and produced and acted in her own comical skits.
Suzy currently hosts her own popular weekly radio show, "Solar Power Sessions." Founded in 2001, the show features top unreleased and classic trance & progressive music mixed by Suzy and guests. Catch "Solar Power Sessions" at iTunes Radio (dance stream, danceradio trance) and simulcast at www.danceradio.gr (trance stream) every Tuesday 22:00-24:00GMT / 5-7pm EST.

Among "Solar Power Sessions," Suzy's DJ mixes are also continuously featured on prestigious radio shows/stations globally, including VONYC Radio, "Mondo Vs Noys" on Ministry of Sound Radio, "Intuition Radio," "Deep Blue Radio Show," "Resident Nation" on Music Choice (digital cable television), Sirius Satellite Radio, Digitally Imported Radio, XM Satellite Radio, Worldspace, ETN FM, Sensegenerate.fm and many more.
Suzy continues to be one of the most sought after female DJs in the Industry. With her relentless world tour, music production, and radio broadcasting schedule, you are sure to hear much more from this multi-talented artist for years to come.

Check out Suzy Solar on the web: www.suzysolar.com and Myspace: http://www.myspace.com/djsuzysolar .




Armin : "Your on a roll man". Thats what the worlds number 1 dj said after receiving the first exclusive copy of Daniel Kandi's Remix of "Luke Warner & Mat Lock - Deep Psychosis". And Kandi only had to wait around a day, before Armin Van Buuren had featured it in "A State Of Trance"325. And now a true regular with his productions in Armins worldwide tranceshow.

Daniel Kandi is undoubtably one of the biggest upcoming producers to come out of Europe. Working alongside Safri Duo..s producer Michael Parsberg, (known for Played-A-live "the bongo song") Daniel Kandi has amounted to be the best uplifting tranceproducer to come out of Denmark.

Above & Beyond was quick to react to Daniel Kandi..s VERY first demo, and signed it straight away. When you think of how picky the guys can be, getting noticed on a first demo is an achievement in itself. "Breathe" became Daniel..s first single on the successful Uplifting label Anjunabeats, and charted high on various onlineshops and got canned by the likes of bigtime top dj's Above & Beyond, Judge Jules, Armin Van Buuren, Super8 and many more!

2nd Single from Kandi was even a stronger bit for the great Dane, and the single Child/Nova ended up with massive support for Armin Van Buuren and Above & Beyond once again. "Child" became TATW Webvote Winner 3 times, plus regular support on Armin..s show ASOT, the track also became one of the most loved trancereleases from Anjunabeats in late 2006-early 2007.

Turnmills/Soraya is the new EP from Daniel Kandi and it will be released on Fundamental Recordings. Once again a true set of uplifting bangers, the EP has already gained support by all the big shots. And the review list is ever growing :


Marcus Schössow: "Love Turnmills, deffo how melodic trance should sound like"
James Gladwin: "Soraya is definately going to find its way into my sets. Lovely track with good progression"
Hans Temmerman (Rotationz.be): "Nice tracks! Turnmills is very uplifting and melodic"
Matt Darey: "Hands in the air stuff from one of fastest rising stars at the moment!"
Woody van Eyden: "Full support on Soraya"
Above & Beyond: "Played in Trance Around The World"
Jochen Miller: "Phat!!! Will play both mixes"
John O'Callaghan: "Another excellent release by Daniel Kandi - 8/10"
Mark Eteson: "Turnmills is a corker... typical kandi lead. Soraya has the better bassline and the piano is sublime!"
Graham Gold: "Turnmills is in the box!!"
Filo & Peri: "Will support Turnmills on the mix sets for sure!"
Signum: "Super tracks!!"
Ronski Speed: "Nice work by Daniel Kandi. Like the Turnmills track. Cool tune!"
Bart Claessen: "Full support – Great Trancer!"
Mike Shiver: "Great melodies! Playlisted!"
Menno de Jong: "Support on Turnmills"

Also having a regular Radioshow @ afterhours.fm, and the show is called "Always Alive with Daniel Kandi"… Broadcasting every 2nd and 4th MONDAY (instead of tuesdays now). The show expands now to a 2 hour show and every second week a guestmixer will feature in the show. Here are the timeslots for the show near you :

EST: 12:00 - 14:00
GMT: 17:00 - 19:00
CET: 18:00 - 20:00

Watch out for Daniel. He might be in your country sooner than you know it!

So make sure to check out www.urtrancezone.com and tune in for our webcast, stick around and be part of our community and our HUGE music library.Next webcast will be May 16th 1pm PST - 9pm UK - 10pm CET