Check out our Q&A interview with Joris Voorn
We did a Q&A with Joris Voorn - hope you enjoy!

----


For the last two years, Basic's Sleepy & Boo have been holding down the decks at Cielo every month on the second Friday of the month. Their Sleepy & Boo + Friends bash features the resident duo dropping a headlining set of underground gems new and old, alongside a rotating roster of their own local guests. It's a night dedicated to New York's homegrown Big Apple beats, going down at one of NYC's top nightlife spots for electronic music and culture.

But for their second anniversary bash on Friday June 8th, they're mixing things up a little bit – and welcoming as a special guest the one and only Dutchman extraordinaire Joris Voorn. For years, Joris' productions and remixes have been favorites with legions of DJs across the board – with his meticulously produced tracks featuring a perfect fusion of infectious dancefloor grooves and just enough melody and emotion to set his music apart from the pack. He's released hit after hit, and is set to kick off a huge summer of events and music. He's just mixed Disc 1 of Sven Vath's annual Cocoon Ibiza summer preview, his own Rejected label is firing on all cylinders, and his latest "Dusty House" EP is tearing up the charts worldwide. He'll be playing the extended headlining set at Cielo along with Sleepy & Boo, fresh off a daytime appearance at Dekalb Market in Brooklyn.

Sleepy & Boo spoke with Joris in advance of the party, where he discussed his new Cocoon CD, how he approaches his music production, and some of his favorite things about New York and playing at Cielo. We'll see him on Friday, June 8th, for the Sleepy & Boo + Friends two-year anniversary!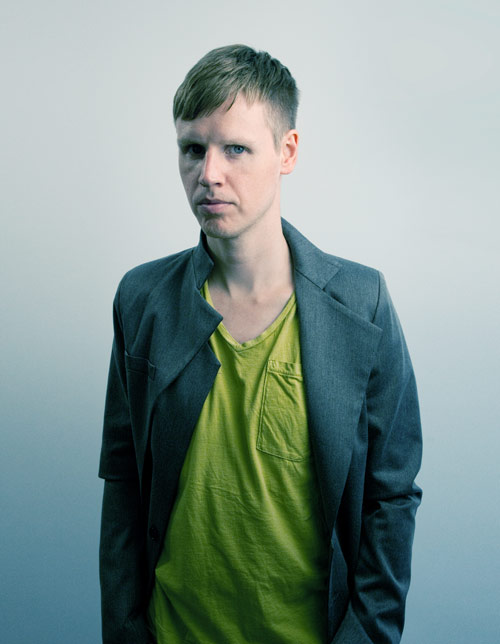 Greetings Joris! Hope everything is going well? You just got back from playing at the Movement Festival in Detroit this past weekend. How was your set, and what were some of the other highlights of the festival for you?

DEMF was amazing as always. It's by far my favorite US festival (not that I've been to that many). It's a place where people understand music, you don't have to think OMG what am I going to play next, it's all just a natural flow. The location is also just perfect, in the heart of the city, at the water next to the GM tower, and the weather is always great. Unfortunately I didn't have time to check out many other artists as I came in only for the last evening, but on the same Beatport stage I saw the amazing Martinez Brothers and after us Steve Bug doing a great set. I also saw a bit of Detroit heavyweight Stacey Pullen, playing a great contemporary techno set.

You've played at a few of the big US and North American music festivals in recent years. What are your thoughts on what's going on with the "EDM" scene here in the US right now?

The EDM scene in the US is very mainstream and commercial compared to Europe. There's still a long road to go before you'll see the same interest in more underground variations of EDM in the US. However, there's a few places where great things happen, and where die hard fans of the music gather and make sure they have a great party. The appreciation and support from US fans is very high, hopefully they'll be able to convert more people to slightly less 'easy listening' EDM in the near future.

Summer is here and you've just mixed the annual Cocoon summer preview CD (along with Cassy). How did you approach your mix, and what tools did you use to put it together?

As it's a promotional CD to set the mood and groove for the Ibiza summer season, I've chosen for a quite club oriented sound. My CD starts of a little deeper than what you'd normally hear on the Cocoon nights, but then goes into a more groove ridden sound with here and there some melodic touches. Using some melodies is essential for me when making an actual CD recording as it's impossible to fully recreate a club experience where sometimes all you need is a beat. The CD carries on into some darker techno towards the end, which I love, and finishes on a happy note with a classic remake of "Strings of Life", soon to be rereleased on my own Rejected label.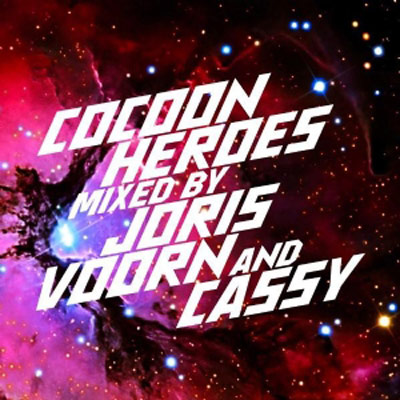 Speaking of Cocoon, you'll be playing at both Amnesia and Space this summer. Tell us what Ibiza means to you as a DJ, and what you're looking forward to most about the summer (both in Ibiza and elsewhere)?

Ibiza has become very interesting music wise over the last few years, underground music now has a very prominent place on the island and can be heard in all big clubs. I play mostly in Space for We Love Space and Amnesia for Cocoon this year, with one show in Ushuaia (b2b with Pete Tong which will be interesting). Oh BTW, also one show in Space hosted by Tokyo's no. 1 club Womb on June 12th. So Ibiza takes up an important place for me every summer, but there's also so many great festivals everywhere else in Europe, from Spain to Belgium, Netherlands to everywhere in Eastern Europe, and not to forget the great summer clubs in Italy.

You've had a very big year for your own productions. You don't release too many tracks but each one you produce is very special. What is your own process like for making music? What is your goal when you're in the studio?

I'm making a lot of music, but like to keep my output quite low. There's a lot of music around, and I don't like to flood the market with mediocre music, I 'd rather wait until I have something I'm 100% sure of after heavy testing in my sets for few months. I think everyone should be doing this BTW, it would save time listening to promos and Beatport. There's no set process for making music, for instance, on the way to DEMF I made a track in the plane and played it out at the festival at night, this hardly ever happens but sometimes it does. The best tracks just come in that one hour time, you get in a flow and just set down a great basis that can be worked out into a solid track later. Almost all my tracks have been done like this, one hour max for the actual idea of a track!

Two notable recent releases were your rework of Moby's "After", and Lana Del Rey's "Video Games" - which you only released on your Soundcloud. How did these two projects come together, and are there any other pop songs or pop artist you'd be interested in working on?

Moby's rework was just a remix request, but Moby's management wanted to release it on Rejected which was great. Lana's edit is just an edit I made for fun, after playing it one time a clip ended on Youtube and everyone was guessing what mix is was, so I thought let's just finish it properly and get it out on Soundcloud. It's funny how these things go nowadays. It would have been great if released properly, but this way was fun too, a free gift for the world.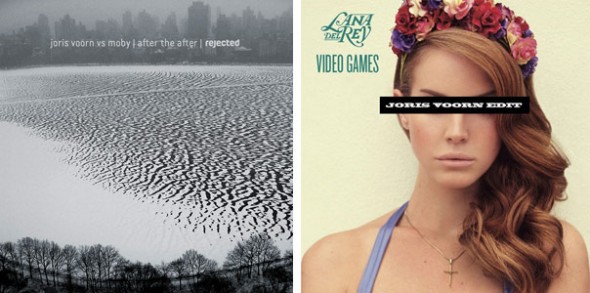 The other side to your music is your label Rejected, which has been on a tear recently with the dancefloor bombs. What does it take for a track to make it onto Rejected, and what are some releases you've got coming up?

Unfortunately we don't get sent a lot of great promos, it's very, very hard to find good unsigned music, so most of our releases come through asking artists to send us stuff. We're very picky, but not unreasonably tough, if something musically stands out or works very well on the floor and fits to the label we'll put it out.

We have a fantastic Steve Rachmad release coming up, just released Nic Fanciulli's new EP which is serious dancefloor material, and later this summer Astrofarm's "Strings Of Life" remake called "Strings Ain't What They Used To Be".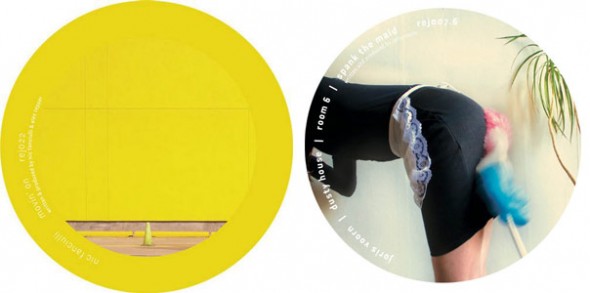 Some of your prior releases have really been the type of records that catch on with a huge range of DJs, like your remix of Robert Babicz's "Dark Flower" and your "Sweep the Floor" original. Any thoughts on why your music in particular seems to catch on with so many different types of DJs, regardless of what kind of genre they are known for?

As I mentioned before, when I release music I try to make something that stands out and is more than just a functional loop, it has to touch on something more musically, although I do aim for the dancefloor with most tracks and remixes, so for me it's always been about that combination, which has seemed to work out well so far.

You live in Amsterdam, and the Dutch music scene looks to be very strong right now. What's your perspective on what's happening in your home country with all the labels, producers and clubs?

There's a massive scene in the Netherlands, so many small labels and artists that just do their own things on their own pace, not worrying about anything else but their art. We have a great underground club scene supporting these artists which is essential. As soon as you are noticed you get a chance to do your thing in front of an open-minded crowd, so we have the perfect breeding ground for good new artists.

We're all excited to have you at Cielo next Friday for our Sleepy & Boo + Friends two-year anniversary party What do you have planned for our night and all your fans?

I can't wait to be back at Cielo, such a great club and crowd. I hope I'll get a few hours so I can play an in-depth set, not just the hits but really take the crowd on a journey! So if my playtimes are right, everyone's in for a musical adventure touching upon different styles and sounds.

And while we're at it, tell us what some of your favorite things about New York are.

NYC is by far one of my fav cities in the world, next to Amsterdam, Hong Kong, Paris, Berlin and Tokyo. Food is great, the actual city and architecture are fascinating, people are very interesting, art and music are very well represented, and any literature or quality movies that takes place in the city are a pleasure to read and watch.

Finally, do you have a recent chart or playlist you can share with us?

- Five fav's of my own rejected label at the moment are:
Rube de Ronde & poze - Stoer (Kruse & Nuernberg Dub)
Kabale Und Liebe & Lauhaus - Hiphouse
Steve Rachmad - Bling It Up!
Nic Fanciulli - Movin' On
Joris Voorn - Spank The Maid

CIELO + BASIC PRESENT
JORIS VOORN – SLEEPY & BOO + FRIENDS TWO-YEAR ANNIVERSARY
Friday June 8th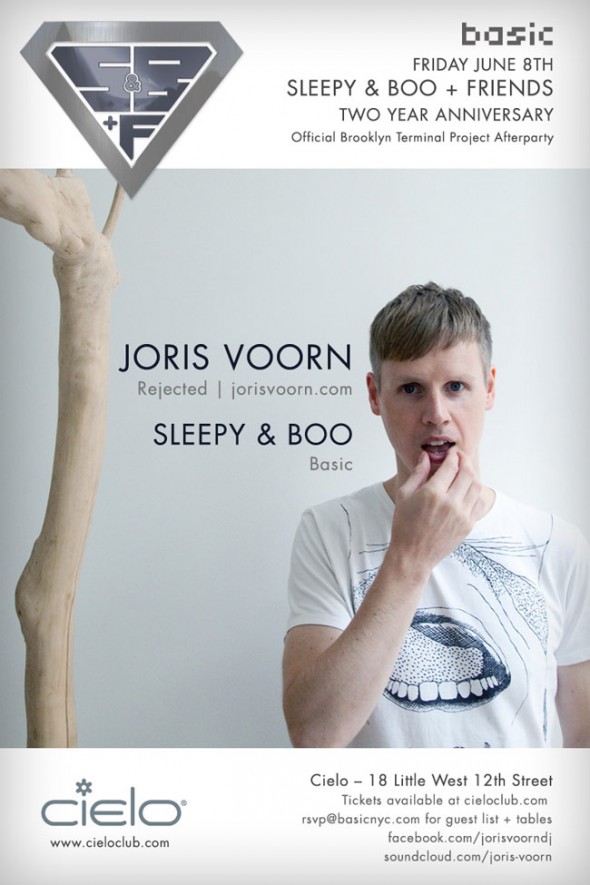 ___________________
Sleepy & Boo
http://www.basicnyc.com
Last edited by sleepy&boo on Jun-04-2012 at 23:16