Introducing our new project: Chatlaser
Hi everybody, we would like to introduce you our new project:




Here's a little more about us:

CHATLASER

A brand new trend is coming to town! CHATLASER is landing so you can experience the "purrfect" night in Montreal.

This duo, formed by Stef le Chef and Marc-André Béland goes way back. Their story began in kindergarten, when they dared each other to a "Kool-Aid shooter contest". This competitive spirit combined with their Attention Deficit Disorder is what enabled those two "cool cats" to develop the incredible aptitude to play "blindfolded twister".

Combined, those Laurel and Hardy of promotion count more than 25 years of experience on the scene and have always find themselves at the cutting edge of the urban nights and events in Montreal.

But enough said about them, let's now concentrate on the ultimate goal of our two protagonist. In 2012, they will build a partnership that will present you with events of all kind, with different musical styles in all the hottest venues of the city. Basically, they decided to save the world with their lasers destroying everything boring and redundant forever!

Stay tuned! The CHATLASER are coming… Pew Pew Pew!


==================================================


Une toute nouvelle tendance arrive en ville! CHATLASER débarque pour vous faire vivre les soirées les plus ronronantes de la scène montréalaise

Ce duo, formé de Stef le Chef et Marc-André Béland, remonte en fait à la belle époque. Leur histoire a commencé à la maternelle, lorsqu'ils se sont défiés à un concours de shooter de « Kool-Aid ». Cet esprit compétitif combiné à leurs troubles déficitaires de l'attention a permis à ces « cool cats » de développer l'aptitude incroyable de jouer à « twister » les yeux fermés. Vous pouvez donc imaginer ce dont ils sont capables!

Ces Laurel et Hardy de la promotion, qui a eux deux possède plus de 25 ans d'expérience dans ce domaine, se sont toujours trouvés à la fine pointe des soirées et évènements urbains à Montréal.

Mais assez parlé d'eux. Concentrons-nous plutôt sur le but ultime de nos deux protagonistes. Pour 2012, ils s'associent enfin pour vous présenter des événements de tous sortes avec différents styles musicaux et toujours dans les endroits les plus chauds de la ville. Bref, ils n'ont décidé de sauver le monde en s'armant de lasers afin de détruire l'ennui et la redondance à tout jamais!

Restez à l'affut! Les CHATLASER arrivent… Pew Pew Pew!



We did a fundraiser at Club U.N. on Dec 23rd for "Le Club des Petits Déjeuner du Québec" and we are about to do our Official Launch this saturday at Velvet Speakeasy for they're second anniversary.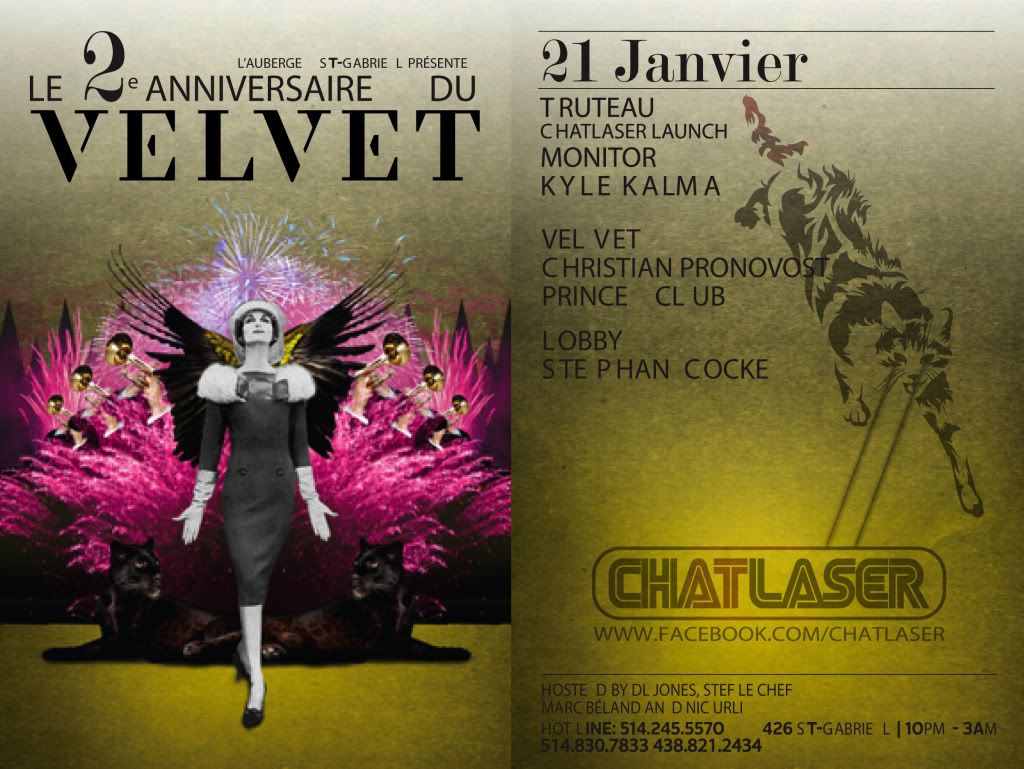 Event link:
CHATLASER Launch @ Velvet 2ieme Anniversaire:

If you want to go just hit us up at 514-830-7833 / 438-821-2434 to get you're invitation that can get you in for free + a free drink. We will also distribute 200 cd's mix by the montreal collectif MONITOR. Perfect after igloofest.

you can find out more about us on our web-site:www.chatlaser.com