quote:
Originally posted by Moongoose
I'm in a terrible dilemma. it's 3am, I can't sleep, I'm cranky(er than usual) and a friend of mine just posted this to Facebook.






I'm awfully tempted to post this in the comments



But (and here is where the dilemma comes in), she's really really hot...and fun and smart and just plain awesome...but mostly really hot :/ Not that I would usually hesitate even under these circumstances but right now I just can't seem to hit send...strange. Must be because I'm tired.



I've had a similar problem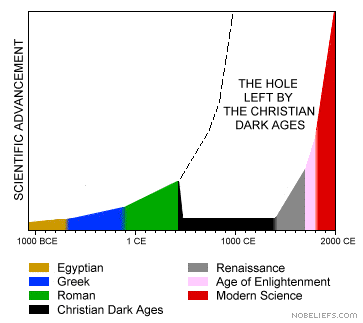 That got posted.

Now don't get me wrong, christianity was shit for technology, but not during the time frame mentioned. To the best of my knowledge technology actually stagnated from say 100bc to 400ad and growth in that area was very slow (despite quality of life improvements for millions of people).

and in fact, contrary to popular belief the downfall of the roman empire was positive for technology (better cloth weaving techniques, better warfare techniques, much better farming techniques, better a few things, despite some things going backwards).

Christianity was definitely awful for technological growth (and the catholic church actively encouraged feudalism quite a bit) but so was the Roman empire for most of it's existence... contrary to popular belief.

Regardless, most important bits is where the graphs are on the line is so incredibly made up, that that thing is nothing but propaganda. It's total bullshit.