07-12-21 @ Stereo - Creator - Ricky Stone
View this Thread in Original format
BlendedProd.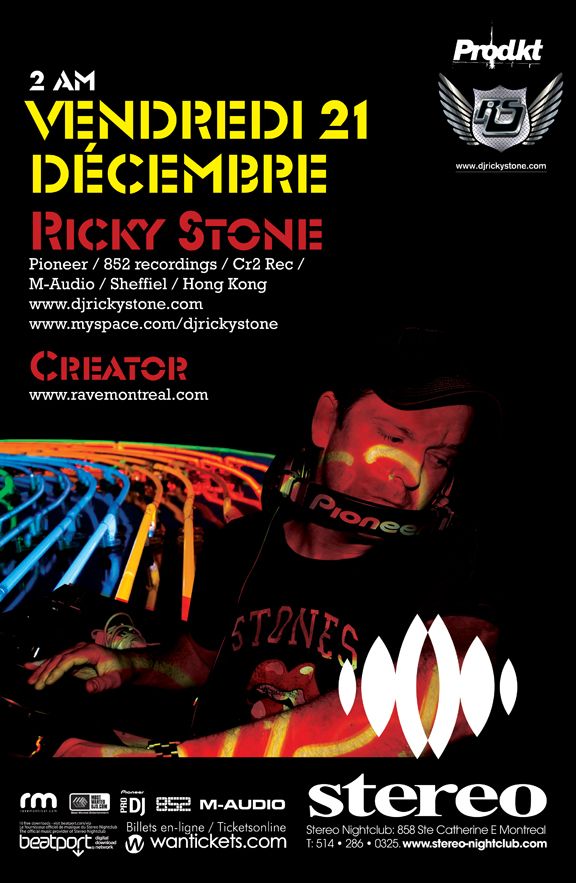 Ravemontreal
I hope to see many of you for my last Stereo performance...

...of 2007 lol!

I am really happy to be part of Stereo's family and grateful for the great gigs. Opening for Satoshi Tomiie, Ravemontreal20, and extended replacing Green Velvet were amazing nights for me.

and now I will be playing with #68 of this year's DJ Mag 100 poll, RICKY STONE!

See u there. Happy Holidays to everyone.
2deep
Please E-mail your Full names to be on the Stereo Reduced/Guest List by 9 p.m ::Fri / Dec.21::

>> RICKY STONE/CREATOR @ Stereo <<
Esiotrat
Thanks Martin for convincing me to come at the last minute, Sooooooooooooo glad I went. :D

Creator's set was PERFECTION..down to the last detail..mixing, flow, track selection, crowd interaction..just everything was beautiful.
This guy never disappoints, he delivers every single time, consistently rocking the place like there is no tomorrow. Fresh tunes beautifully mixed and everything flows so harmoniously, it was just delightful. :)
Heard nothing but great feedback from everyone I talked to on the dance floor. They loved your set and they showed it by dancing up a storm throughout.

And then Ricky Stone came on and..broke the flow. I was not feeling his set at all, and I wasn't the only one...people were barely moving, the dance floor cleared up significantly...blah opening. His set was...confused. :conf: ..no flow, no continuity, a couple major -ups with the mixing, his set was taking so many different directions that it was going nowhere..and bloody hell was it ever LOUD!, I was feeling the boom-boom in my chest.
He picked things up around 7-ish. Dropped some good tunes, but again they were just badly placed in the set..it was just all over the place and it was exhausting. So I left.

Can't say I was disappointed with Ricky Stone because I had no expectations whatsoever seeing as I've never even heard of the guy, but yeah..wasn't impressed at all.

People should open for Creator from now on. Man you're just amazing, I will never say it enough.

See you at Sasha & Digweed! :D
Ravemontreal
Thank you for coming, I always appreciate seeing familiar faces! It was a great night with a good turnout, which was nice knowing we have really big parties next week.

I had a blast :-). Damn i'm tired. Main room + after 8 is always physically challinging, but oh so fun.

Happy holidays, thanks for the support!
Marcus007
martin, are you excited to play at your very first massive at bell center?
Ravemontreal
Of course! But I am really the kind of guy that takes things step by step, so I was more focused on last friday's gig. Now that it's over, the excitement and stress should sink in this week.
callme:gsmile:
you will do fine martin, just think of marty mcfly from back to the future:p

wink wink

break a leg wish i could go